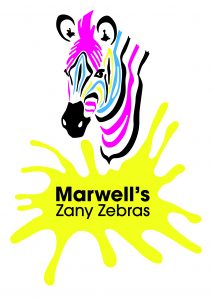 In celebration of Marwell's Zany Zebras, View Winchester (Winchester BID's consumer brand) challenge you to take part in the quest for the best Winchester zebra.
It is your mission to track down zebras who have been lovingly decorated and hidden by local businesses and pick a favourite. Map sheets are available from the Tourist Information Centre and the quest will be open from 16th July for the summer holiday period. The quest is a great, family friendly and free activity for the summer holidays.
Marwell's Zany Zebras is a mass public art event to highlight, educate and fundraise for the endangered Grevy's zebras and other wildlife, and to support communities living in the arid rangelands of northern Kenya. The BID have co-sponsored a large Zany Zebra, who has been decorated to resemble King Alfred (or King Zalfred as we like to call him) and will be on display in the Marlands shopping centre in Southampton, signposting shoppers and visitors to visit the historic city of Winchester. We then decided to host our own quest to further promote the Zany Zebras campaign, but also to celebrate businesses in Winchester.
Once you have completed the quest, head to the YMCA café at the bottom of town to post your vote for the best zebra. Here you can collect your chocolatey treat and also claim 20% off in the café* to say thanks for taking part in the Quest for the Best.
After the event, the business who decorated the winning zebra will be awarded with a small prize from the BID to thank them for their participation.
You can also download your map sheet with the link below.
Zany Zebras Quest for the Best
*the YMCA cafe is open Monday – Saturday. The quest will still be available on Sundays, however the voting box will be moved to the Tourist Information Centre.