Spare Change for Real Change, Winchester's diverted giving scheme, was delighted to present £2,600 to Winchester Churches Nightshelter and Trinity Winchester at the most recent Steve Brine MP breakfast meeting.
The scheme was given a profile-boosting overhaul in summer 2016 by Winchester BID, Winchester City Council, Winchester Churches Nightshelter and Trinity Winchester.  Since then there has been a significant increase in funds collected compared to the same time last year.
Sue McKenna, Operations Director at Trinity Winchester, said "The support we have received from local shops, Winchester BID and Winchester City Council is hugely important, and the increase in spare change donations year on year is down to their enthusiasm and hard work towards this project. The incredible amount raised will be put into our services supporting people who are homeless and vulnerable in the City, and we are so grateful to every person who put their pennies in the boxes. Last year, the homeless morning outreach teams found 64 people sleeping rough in the city centre, and every penny put into the Spare Change for Real Change boxes will be used to support these individuals. We would like to thank the teams at BID and the Council, the public, and our wonderful volunteers who help to maintain these collection boxes."
Trinity explained how their share of the money could be used to support homeless or vulnerable people in the city:
52 sessions of early morning Outreach
39 Counselling sessions for people struggling with mental health and addiction issues
Purchasing and preparing meals for 50 people a day for two weeks
Holistic support for two people engaging in all of Trinity's services for a whole year
10 days of power for the building
If you would like to contribute to Spare Change for Real Change then look out for the red house-shaped boxes located in nearly fifty businesses in Winchester. Alternatively you can text: REAL17 £2/£5/£10 to 70070 (plus your standard network rate).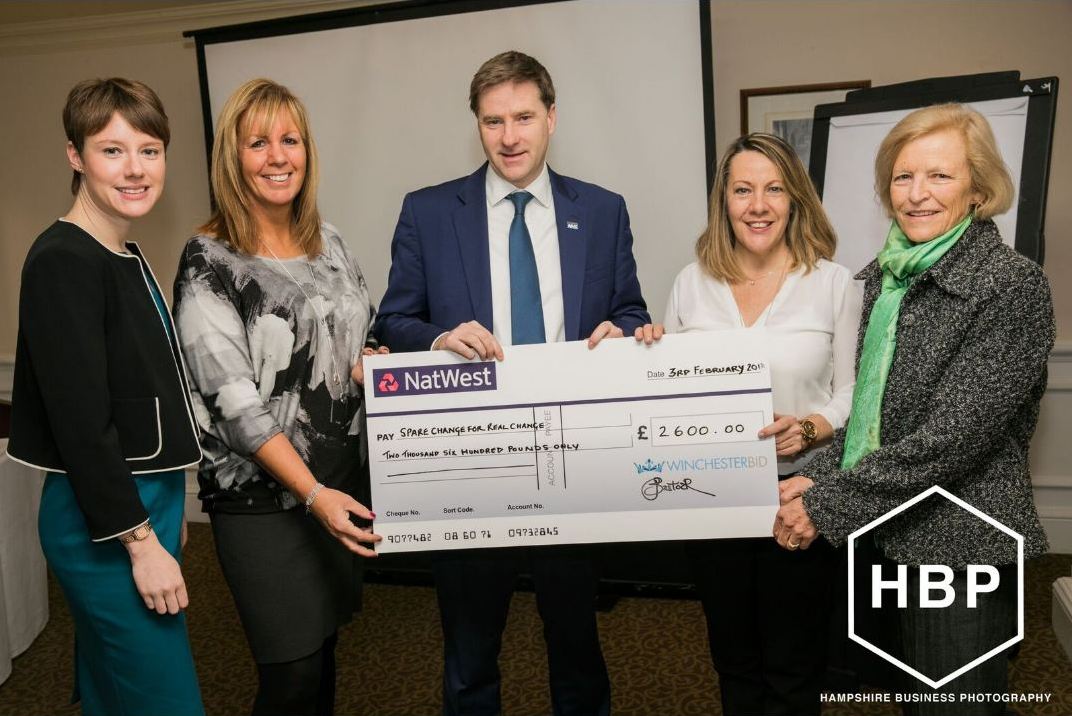 Photograph: (left to right) Catherine Turness – Executive Director of Winchester Business Improvement District, Jane Bastock – Business Crime Reduction Officer at Winchester Business Improvement District, Steve Brine – MP Winchester, Sue McKenna – Operations Director for Trinity Winchester and Michele Price – Manager of Winchester Churches Nightshelter.