A local crowdfunding campaign to equip Winchester High Street with a life-saving defibrillator, has drawn the support of Marks and Spencer Winchester. The local store has donated a public access defibrillator (PAD) unveiled by Store Manager, Chris Berry.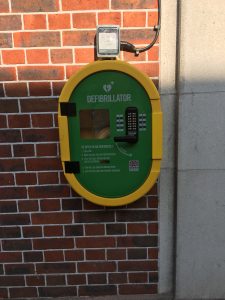 The PAD, installed on Middle Brook Street, will give the local community 24 hour access to life-saving equipment. If used within three minutes of cardiac arrest the device can improve a person's chance of survival by as much as 70%.
The crowdfunding campaign, launched by Action Hampshire earlier this year, highlighted the PADs in the city and the potential risk to local life due to poor access to such devices in the event of an emergency. This PAD is the only machine in the pedestrianised area of the High Street that is available to the community 24 hours a day.
Chris Berry, Store Manager at M&S Winchester, said: "On hearing about the lack of access to a PAD on the High Street, we felt it necessary to support the local community and purchase this vital piece of equipment for the city. Our building is in a prime location – at the heart of the High Street and easily accessible. As and when we need it, we hope it will save lives in our community. We will be offering all our staff comprehensive training, with demonstrations on how to use the defibrillator correctly so they are prepared in an emergency."
The M&S PAD means Winchester has received two defibrillators in as many months. Action Hampshire reached their fundraising total recently and purchased a machine, which is located further up the High Street, off Staple Gardens, so the Winchester community has easy and quick access to the life-saving equipment when they are in the city centre.