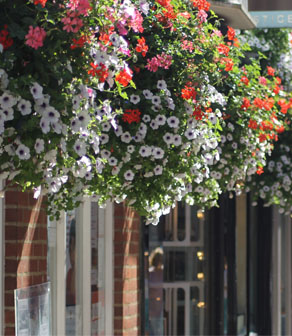 It's that time of year again when we place our order for hanging baskets. Winchester BID continues to provide an extensive floral display programme to enhance the appeal of Winchester during the summer months. In 2014, we provided over 500 hanging baskets to BID members for free, which were watered and maintained over the summer and are in situ until early October.
Businesses who had a hanging basket last year, will automatically receive a basket again, however if you are a new business or haven't had a hanging basket before and would like one, please e-mail your request to Catherine: catherine.turness@winchesterbid.co.uk
Please note businesses will need to have received permission from the owner of the building to erect a bracket on the premises.