Fria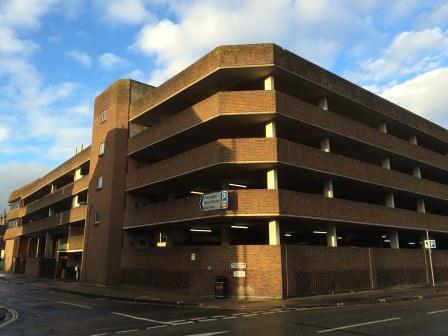 rsgate car park in Winchester will close permanently for safety reasons on Monday 30 March 2015.
The car park, parts of which are more than 40 years old, has come to the end of its useful life. Winchester City Council kept parts of the car park open for as long as possible but now needs to close the remaining 131 spaces to ensure public safety.
There is capacity at the nearby Chesil Street multi-storey which has cheaper short-term parking rates than Friarsgate. Park & Ride also has capacity and even cheaper parking. In the longer-term other city centre developments will include car parking too.
Three spaces for disabled drivers will be replaced with four at the Cossack Lane car park where blue badge holders will not have to pay for parking. Five disabled bays in Middle Brook Street car park will be altered to 'dual use', allowing 'parent and child' parking also.
Cllr Ernie Jeffs, the City Council's Portfolio Holder for Communities & Transport, said: "This closure has been planned for some time.
"The safety of residents and visitors comes first and Friarsgate car park has reached an age where we can no longer maintain it.
"We wish to make the best provision for visitors and shoppers to our city – fortunately we have capacity in the system at most times of year and plans are in place to include appropriate park & ride and car parking in some of the city's forthcoming developments."
The longer-term future of the Friarsgate site is part of the proposed Silver Hill development.