Winchester City Council and Enterprise Car Club launched the city's new car club, for businesses and residents, on Friday 16 June at Winchester Guildhall.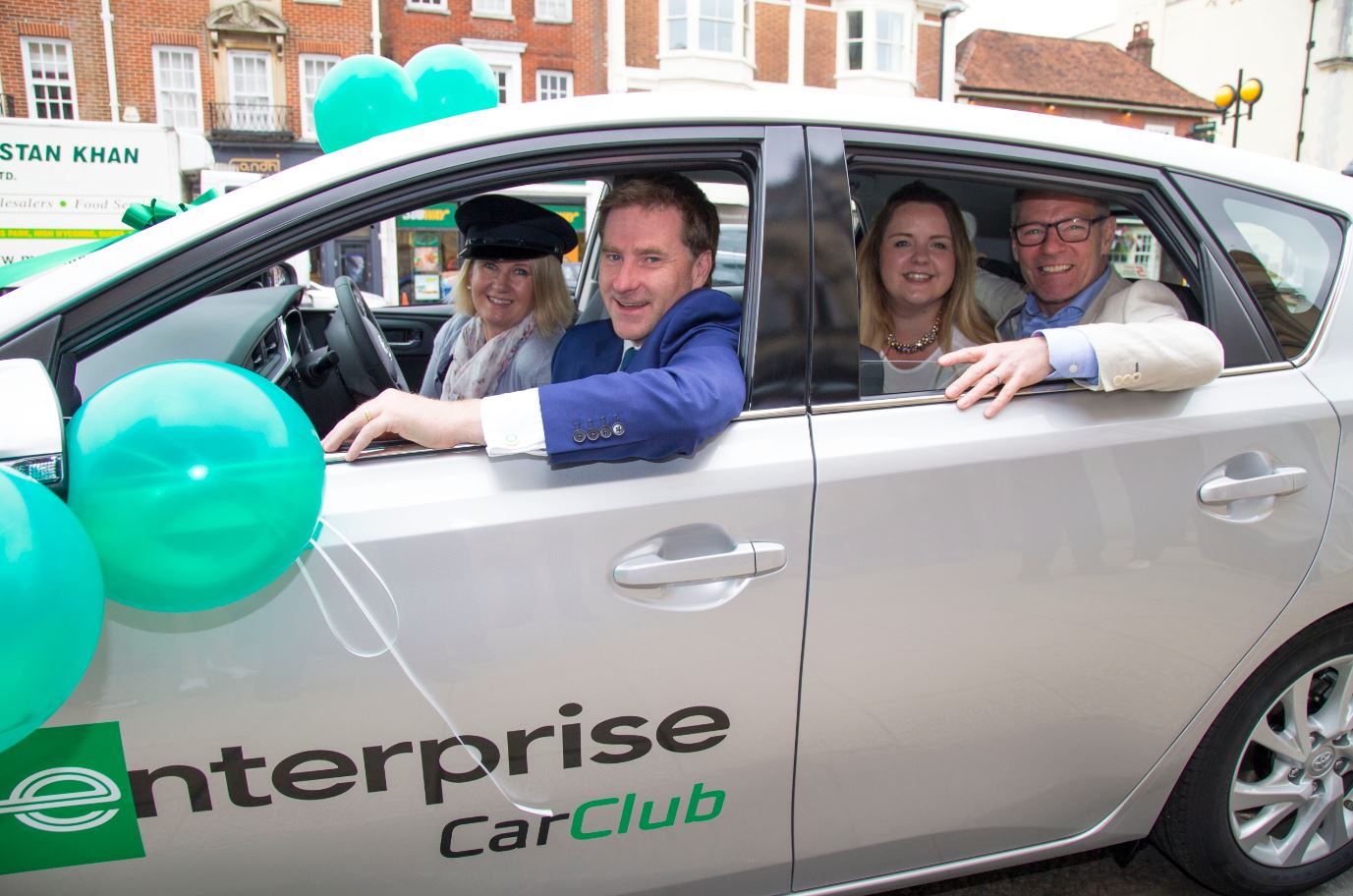 At the launch, local businesses and residents were given a unique opportunity to experience one of Enterprise's new low emission hybrid cars and to sign up to the car club for free.
The car club enables self-service access to a car at any time without the hassle and expense of car ownership.  It will also help to reduce the number of privately owned vehicles coming into the city reducing emissions, improving air quality and encouraging use of public transport.  Vehicles can be booked for as little as 15 minutes for local errands or for hours and even days when needed and will be available 24/7, 365 days of the year.
Car clubs also offer unique benefits for businesses and employers who need to travel as part of their work. By replacing poorly used "grey fleet" vehicles employers can make considerable cost savings by using car club vehicles.
Enterprise's Car Club vehicles will be available at the following locations in Winchester City Centre: Friarsgate, Middle Brook Street and Jewry Street car parks as well as at Enterprise's offices at Winchester Railway Station.   Signing up is easy online at www.enterprisecarclub.co.uk, and enables access to any Enterprise Car Club vehicle across the county.
Winchester City Council's Portfolio Holder for the Environment, Cllr Jan Warwick, said:
"The council is delighted to offer Enterprise free use of three parking spaces in city council car parks for Winchester's new car club.  The car club is one of the many actions in the City Council's new Air Quality Action Plan.  Other actions include encouraging greater use of out of centre parking, the installation of electric vehicle charging points in city centre car parks and introducing ultra low emission vehicles for our own fleet."
Enterprise, which has a regional office in Winnall and employs 65 in the city, will provide Winchester's businesses and residents access to its vehicles every day of the year.  The company already operates car clubs across more than 23 cities nationwide.
Dan Gursel, Managing Director of Enterprise Car Club, added:
"We are very excited about opening the new car club scheme in Winchester. It provides a great platform to continue to expand our offering of connected mobility in this area. Enterprise Car Club is also available in Southampton and the Isle of Wight offering unparalleled coverage to all its members in the region. We want to provide a completely joined up vehicle service to bring more choice to people living, working and travelling in and out of Winchester, whether they need a car for an hour or over several days. It takes only a short time to join, book a vehicle and be on the road. Plus, anyone needing more assistance can just pop into the branch which is conveniently located at the station."
To find out more about the car club visit https://www.enterprisecarclub.co.uk/gb/en/programs/regions/south-east-england/winchester.htm
The photograph shows: Steve Brine MP for Winchester and Chandlers Ford; Gemma Dickson, Business Rental Sales Manager, Enterprise Car Club; Cllr Janet Warwick, Winchester City Council's Portfolio Holder for Environment and Ken Macartney, Chair of Winchester Business Improvement District Board.