Spare Change for Real Change is an initiative originally set up by Winchester BID to support local homeless charities, Trinity Winchester and the Winchester Churches Nightshelter.
Now with the kind support of Winchester City Council, Spare Change for Real Change is undergoing an extra 'push' in order to provide support to homeless people in Winchester and prevent street begging in the city.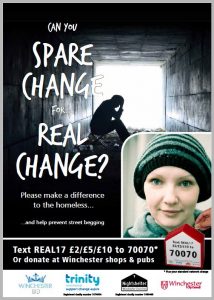 Spare Change for Real Change works by collecting donations from the public and sharing the proceeds between the two aforementioned charities, who ensure that the money is used in the best possible way to work towards rehabilitating homeless people.
Donations can be made in 50 red house-shaped collection boxes located in bars, pubs, shops and businesses all across Winchester (you can see a full list of participating businesses at the bottom of this page). These are regularly emptied and counted by kind volunteers. As well as the collection boxes, people can also donate via text:
Text REAL17 £2/£5/£10 to 70070*
*plus your standard network charge
Did you know that not every person begging on the streets of Winchester is actually homeless? Winchester has recently experienced an influx of professional beggars; these people abuse the kindness of the public by pretending to be homeless and making a living from donations. Of course, this is hugely detrimental to genuinely homeless people in Winchester, who are in desperate need of help, shelter and support. By giving money directly to Spare Change for Real Change, you can be sure that you are truly helping homeless people to get the best possible chance of change, rather than supporting professional beggars. Our aim is to break the cycle of homelessness and end professional begging on the street of Winchester.
If you are a business who would like to get involved in Spare Change for Real Change, please contact Jane for more information or to get your collection box or text donation sticker.
If your business currently hosts a Spare Change box and it needs emptying, please contact Jane or phone 01962 841000.
Current businesses where you can donate to Spare Change for Real Change are:
Arcana
Asgard
Bell Fine Art
Bishop on the Bridge X 2
Brasserie Blanc
Bus Station Travel Shop
Café Winchester
Charters
Choccoco
Christchurch Church
Cornerhouse
Creative Crafts
Discovery Centre X 2
Everyman Cinema/The Screen
Fone World
Howdens Joinery
Independent Holiday Shop
Jeremy France Jewellers
Kingsgate Wine Shop
La Place
Mucky Duck
News Shop
No1 Currency Exchange
Prezzo
Robert Dyas
Rohan
Royal Bank of Scotland
Santander
Steve Brine's Constituency office
St James Tavern
The Old Gaolhouse
The Green Man
The Sweet Treat Company
Toscanaccio
Tourist Information Centre
Travel Bag
Warrens
Winchester City Council reception
Winchester Guildhall reception