Providing a safe environment in Winchester is extremely important and through the following projects we aim to promote a safe and vibrant night-time economy.
For more information on crime reduction initiatives, please contact Jane Bastock.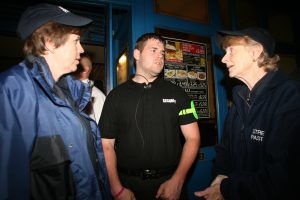 STREET PASTORS
The BID is delighted to support the work of the Street Pastors, who provide sterling voluntary work on Thursday, Friday and Saturday evenings. They help vulnerable individuals and work closely with the police to keep crime levels to a minimum and improve safety.
SPARE CHANGE FOR REAL CHANGE
The BID will facilitates a diverted giving project, titled Spare Change for Real Change. The scheme encourages the pubic to divert funds from the street to local charities, the Trinity and Winchester Churches Nightshelter in a bid to break the cycle of homelessness. There are a number of collection boxes in businesses across the city. Steve Brine presents a cheque to the two charities at an annual business breakfast, organised by Hampshire Chamber of Commerce and sponsored by the BID.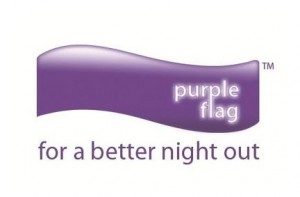 PURPLE FLAG ACCREDITATION
The BID, working with the City Council have achieved Purple Flag accreditation for Winchester for the five successive years. Similar to blue flag for beaches, a purple flag indicates that the city has a safe yet vibrant night time economy.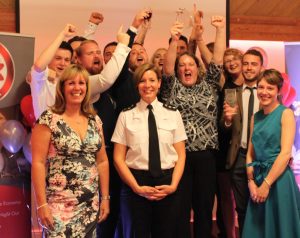 BEST BAR NONE WINCHESTER
Best Bar None is a national awards scheme aimed at promoting safety, responsible management and operation of alcohol licensed premises. In addition to the NUS scheme, it has been adopted by 100 towns and cities across the UK. The BID in partnership with the University of Winchester have rolled our the Best Bar None Scheme in Winchester and award venues who meet the criteria on an annual basis.