Winchester BID is proud to operate an open door policy at our office in Parchment Street. We always welcome input and ideas from all levy paying businesses and want to hear of any issues and concerns so we can continually evolve and adapt according to priorities.
We appreciate communication preferences differ and thus we implement a cross-channel approach so you can choose your preferred way to connect with us.
For any queries on business communications, please contact Amy Sheppard. 
E-COMMUNICATIONS
Our fortnightly newsletter remains the most popular method of communication with BID Members. We produce a relevant, timely and interactive news summary, whether it is an update on the delivery of a project, our response to a local consultation or details of a festival, we aim to arm businesses with important information and opportunities to consider.

With the rise in popularity of social media, we connect with businesses through Twitter and LinkedIn.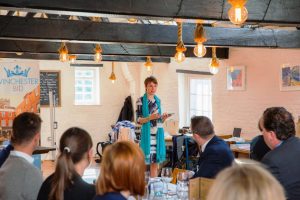 FACE TO FACE
With an office in the heart of the BID area, the team are regularly out and about meeting with businesses.
We organise a number of business forums, including Pubwatch and Shopwatch, which allows for the discussion and dissemination of intelligence to assist tackling anti-social behaviour. We also  facilitate stakeholder meetings on topics, which affect the wider community. Whether industry or area specific, we aim to inform you on latest developments affecting your business, which has included broadband connectivity, parking and Silver Hill.
We hold an annual general meeting in April, open to all our members to hear a summary of the work in the previous year, including our audited accounts and future plans, plus election of non-executive Board directors.
However, we understand attending meetings isn't easy, especially if you have limited resources so our meet and greet service provides an opportunity to receive a 1-1 session with a member of the team who will visit your premises and discuss projects and services, which are relevant to you and your business.

PRINTED MATERIALS
We understand that there are some members who prefer a larger round-up of news that they can share easily with staff so we  produce a bi-annual hard copy summary of our work, posted directly.
We produce an annual report, which we  circulate with the annual BID levy bill, which evaluates our performance over the previous year. It shows our achievements, reviews our financial spend and sets out our priorities for the following year.