Through the following city improvement projects, the BID delivers a range of public realm enhancements to make Winchester cleaner and more attractive.This benefits businesses as well as visitors and residents of the city.
For more information on our public realm projects, both present and upcoming, please contact Paul Spencer.
STREET CLEANSING
Attractive streets are important for those working in and visiting Winchester as customers, clients and tourists. Winchester BID organises regular cleansing of streets within the BID area, beyond the statutory duties of the local authorities.
Street cleansing activities include removing chewing gum and litter and deep cleaning the pavements.
The BID also has zero tolerance to graffiti and will organise the removal of any graffiti on business premises immediately. Please contact Paul if you have an issue with graffiti.
We attend a group facilitated by Winchester City Council to discuss public realm policies such as to busking, waste management and A-boards.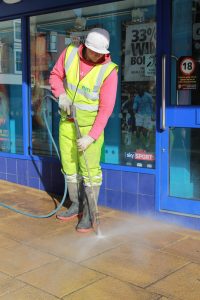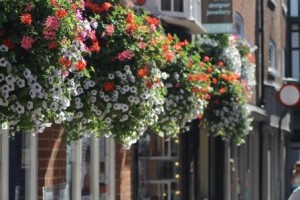 HANGING BASKETS
The BID will provides an extensive floral display programme to enhance the appeal of Winchester during the summer months.
Over 500 hanging baskets and boxes are installed on business premises and key gateways into the city.
Any BID levy payer can request to have a hanging basket for their premises. They are installed at the beginning of June, watered and maintained by the BID's contractor and taken down in October.
Please contact Paul if you would like to request a hanging basket for your premises.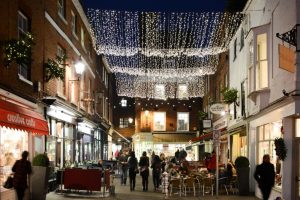 CHRISTMAS LIGHTS
To deliver The Perfect Christmas campaign, dressing the city for the festive season is essential.
Each year, the BID upgrades and extends as the provision of lights in the city, to illuminate new areas and major buildings. The BID also provides the main Christmas tree in the High Street and the provision of smaller trees on business premises.